Vision Programming Interface (VPI)
Kajanan mentioned this to me. It's like a better CUDA accelerated OpenCV. However, there is also CV-CUDA.
Resources
https://www.youtube.com/watch?v=6-FhpfwBpXk&ab_channel=NVIDIADeveloper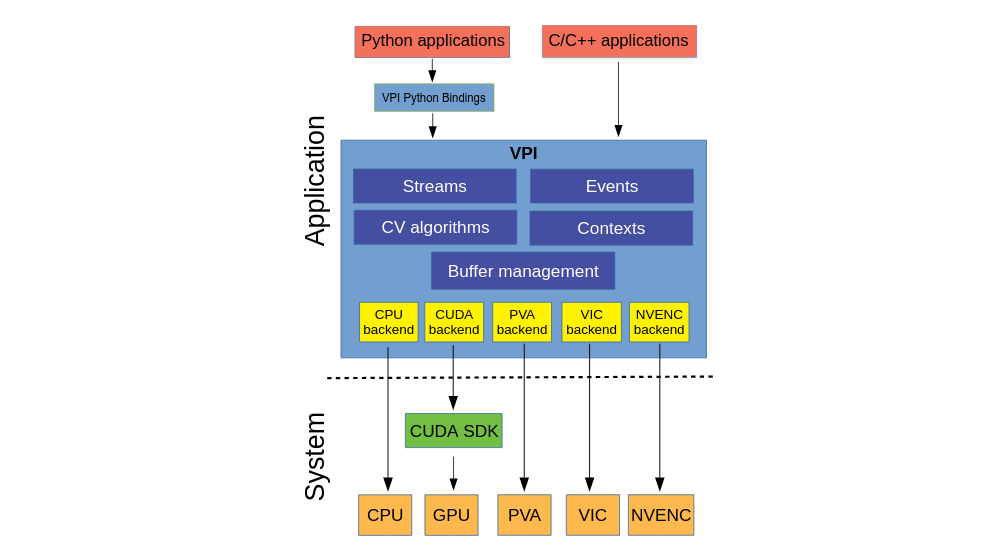 Questions:
I have some confusion about streams. Why do we have to specify the backend for the stream when we do vpiCreateStreamWrapper, but not vpiStreamCreate. Why the difference?
In cudaMalloc, you can specify the stream. However, vpiImageCreate doesn't require you to define the stream?
Basics
Allocating a VPIImage
CHECK_STATUS

(

vpiImageCreate

(cols

,

 rows

,

 VPI_IMAGE_FORMAT_U8

,

 

0

,

 

&

image));
Free a VPIImage
Few ways to create images
vpiImageCreate
vpiImageCreateWrapper (from wrapping VPIImage around some other data)
vpiImageLockData / vpiImageUnlock (for getting the raw pointer from VPI, wrap this around another data structure)
VPIImageFormats
I realize that an image format is tightly coupled with how it is stored in memory. So what are the different formats?
The higher level thing is this
/** Represents the available methods to access image contents.




 * The correct method depends on 

\ref

 VPIImageData::bufferType. */




typedef

 

union

 

VPIImageBufferRec




{




    /** Image stored in pitch-linear layout.




     * To be used when 

\ref

 VPIImageData::bufferType is:




     * - 

\ref

 VPI_IMAGE_BUFFER_HOST_PITCH_LINEAR




     * - 

\ref

 VPI_IMAGE_BUFFER_CUDA_PITCH_LINEAR




     */




    VPIImageBufferPitchLinear pitch;




 




    /** Image stored in a `cudaArray_t`.




     * To be used when 

\ref

 VPIImageData::bufferType is:




     * - 

\ref

 VPI_IMAGE_BUFFER_CUDA_ARRAY




     */




    

cudaArray_t

 cudaarray;




 




    /** Image stored as an EGLImageKHR.




     * To be used when 

\ref

 VPIImageData::bufferType is:




     * - 

\ref

 VPI_IMAGE_BUFFER_EGLIMAGE




     */




    EGLImageKHR egl;




 




    /** Image stored as an NvBuffer file descriptor.




     * To be used when 

\ref

 VPIImageData::bufferType is:




     * - 

\ref

 VPI_IMAGE_BUFFER_NVBUFFER




     */




    

int

 fd;




 




} 

VPIImageBuffer

;
https://docs.nvidia.com/vpi/group__VPI__Image.html#unionVPIImageBuffer https://docs.nvidia.com/vpi/group__VPI__ImageFormat.html
So for grayscale, they only have 1 channel
 #define VPI_IMAGE_FORMAT_U8 VPI_DETAIL_MAKE_NONCOLOR_FMT1(PL, UNSIGNED, X000, X8)
 
#define VPI_IMAGE_FORMAT_U8_BL VPI_DETAIL_MAKE_NONCOLOR_FMT1(BL, UNSIGNED, X000, X8)

They have something like NV12
 #define VPI_IMAGE_FORMAT_NV12 VPI_DETAIL_MAKE_YCbCr_FMT2(BT601, 420, PL, UNSIGNED, XYZ0, X8, X8_Y8)
 
 #define VPI_IMAGE_FORMAT_NV12_ER_BL VPI_DETAIL_MAKE_YCbCr_FMT2(BT601_ER, 420, BL, UNSIGNED, XYZ0, X8, X8_Y8)

VPI Backends
The backends: https://docs.nvidia.com/vpi/architecture.html#arch_backend
VPI_BACKEND_CPU: Utilizes the CPU for processing
VPI_BACKEND_CUDA: Leverages NVIDIA's CUDA technology for GPU processing
VPI_BACKEND_PVA: PVA (Parallel Vector Architecture) backend, optimized for vectorized operations
VPI_BACKEND_VIC: VIC (Video Image Compositor) backend, used for image compositing tasks
VPI_BACKEND_NVENC: NVENC backend, focuses on video encoding using NVIDIA's hardware acceleration
VPI_BACKEND_OFA: OFA backend, specific purpose not clearly defined
VPI_BACKEND_INVALID: Represents an invalid or unspecified backend
Read this, really good example of how you can split into different streams:
Related